Overhead cables with aluminium alloy conductor and XLPE insulation, for overhead power transmission lines up to 35 kV
DESIGN
Conductor: stranded of aluminium alloy wires of round form, compacted, round form.
Insulation: pressed of light-stabilized cross-linked polyethylene (XLPE) of black colour. Nominal thickness of wires' insulation under 20 kV is 2,3 mm, under 35 kV – 3,5 mm. Lower maximum deviation from nominal thickness of insulation equals to (0,1+0,1xδn) mm, where δn – nominal insulation thickness. Upper maximum deviation hasn't any standard.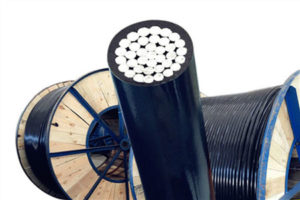 APPLICATION
Cables are applied in the aerial electric networks under the voltage of 20-35 kV.
TECHNICAL CHARACTERISTICS
Cables are stable against the environment temperature: from -60°C to +50°C.
Cables are stable against the assembling bends and solar radiation.
Cable assembling should be executed at the environment temperature of not below than – 20°C.
Cable bending radius at the assembling and installed on the cable supports is not less than 10 wire diameters.
Insulation resistivity at the maximum permissible temperature of conductors heating is not less than 1×1012 Ohm · sm.
Insulation breakdown voltage after being in water during 1h at the temperature of + (20±5)°C is not less than 24 kV with frequency of 50 Hz.
Permissible conductors heating at the operation should not exceed +90°C in normal operation regime and +250°C –at the short-circuit current.
ACSR (20/33 kv)
Tensil Strength
Elictical Resistance at 30oC
Approx. weight
Conductor Diameter (Comopacted)
Cover Thickness
Conductor structure
Conductors
Al
St
N
Ω/km
kg/km
mm
mm
Nxmm
Nxmm
11400
0.9077
194
11.75
2.3
6×2.59
1×2.59
Weasel
13200
0.7827
219
12.31
2.3
6×2.79
1×2.79
Fox
20590
0.4541
342
14.7
2.3
6×3.66
1×3.66
Mink
28700
0.2733
454
16.52
2.3
6×4.72
7×1.52
Otter
65500
0.1860
831
21.46
2.3
30×2.59
7×2.59
Wolf
38860
0.2712
562
18.3
2.3
7×4.39
7×1.93
Hyena
AAC (0.6/1 kv)
4200
1.181
97
8.70
1.2
7×2.10
25
5700
0.833
130
9.90
1.2
7×2.50
35
8400
0.595
185
12.00
1.5
19×1.80
50
11300
0.437
241
13.50
1.5
19×2.10
70
15600
0.308
326
15.50
1.5
19×2.50
95
Copper (0.6/1 kv)
6900
1.138
163
7.10
1.00
7×1.70
16
9900
0.746
249
8.70
1.2
7×2.10
25
14000
0.526
345
9.90
1.2
7×2.50
35
19500
0.376
490
11.90
1.5
19×1.78
50
26900
0.276
657
13.50
1.5
19×2.10
70